Your broadband and moving home
Whether you want to stick with your current provider or want to change services, we have everything covered to make the process simple when you move home.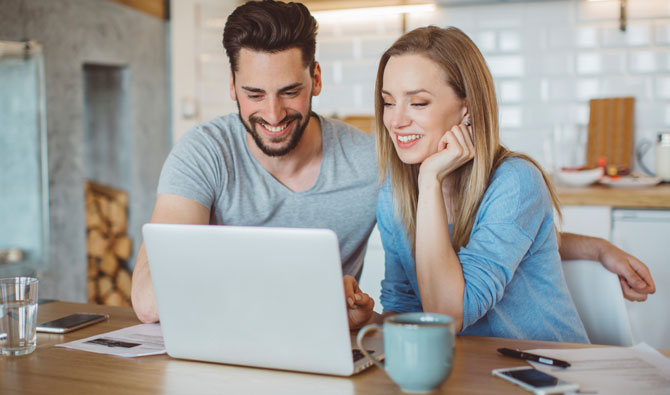 Moving properties is a stressful process, but to help you make sure you're not disconnected during your relocation, our handy guide can assist with sorting out your broadband at your new home.
Stick or switch - making a decision
Before all the boxes are packed and the furniture is ready to be loaded onto the removal van, it's recommended that you decide on whether to switch your current provider or stay connected with your current service.
Sticking with your current provider could be the easier option, but if you want to use moving home as an excuse to get a better deal on your home broadband, you may find it could be worth switching.
However, if you haven't met the original contract period for your home broadband, you will have to see this through, unless you can afford to pay the fee of terminating the agreement early (and we know it's not cheap).
Simply contact your ISP (internet service provider) to notify them of your new address and they'll be able to transfer your connection to your new home. Some providers may ask a small fee for this service, but your broadband will be another thing to cross off your moving house list.
If you have met the minimum contract period with your current ISP and you're wishing to switch, the process will take slightly longer. Therefore, the quicker you sign up to your new service, the less time you'll be disconnected in your new home.
Once you have compared broadband packages and found the right one for you, contact your current provider to make arrangements to cancel your account.
Steps to take when changing providers:
Check your current contract to make sure you can cancel
Make sure you receive your MAC (migration authorisation code)
Double check any cancellation fees you may need to pay
Arrange a date for your new home broadband to be activated
Check the home broadband coverage in your new area
Before browsing for your ideal broadband package, make sure you know which UK providers are operating in the area you are moving to.
Our broadband postcode checker can help you find out who offers their services in your location and the latest deals available.
By checking what's on offer, you will be able to narrow your choices instead of scrolling through broadband packages that you may be unable to subscribe to.
If you're specifically interested in whether you can get broadband without line rental you could be restricting your options. Your new location may not be connected with a provider which offers this type of broadband, such as Virgin Media, so if you really want to shop around then it's probably best to keep your options open.
What is a MAC and do I still need to get one?
A Migration Authorisation Code (MAC for short) is a unique code used by internet service providers (ISP). They were given to DSL customers who wanted to switch providers. The code identifies the telephone line to be switched and authorises the provider to switch the customer to a new ISP.
From 20th June 2015 a MAC code was no longer required for switching ISPs. Now if you want to switch providers and you are switching from one DSL provider to another, you only need to request the service from the provider you are switching to.
Now that you don't need to get a MAC code, switching is much easier.
Moving home with BT
It's quite straightforward to move house with BT. The BT website has a dedicated portal for requesting a home move, which helps to make the process a bit less painful.
All you need is your home phone number, BT account number, the postcode of your new address and the date when you are moving to your new address. You can pick any date up to 90 days in advance. BT recommend letting them know about your move as early as possible, so telling them about your move so far in advance is a very good idea!
BT will do their best to move your services as near as possible to this date to minimise disruption. Once you've filled in your details, your provisional activation will be confirmed.
Unless you are having a line installed at your new property, moving with BT is free. If there is not a working line at your new property the whole process can a lot longer and you may be charged. Installing a new line can involve a two-week wait.
Contracts can also be affected when you move with BT. For your phone line you will need to start a new 12-month contract, but any features will roll over from your existing contract. Broadband is a little bit more flexible as our existing contract will just roll over to the new property unless you have less than 3 months left.
If you have a BT Infinity package, there is a good chance this can be moved to your new address. But if your new house has not been connected to fibre services yet, your new contract with BT should be cheaper.
Any equipment you currently have, such as a HomeHub, you can take with you and set up yourself at your new address.
Moving home with Virgin Media
If you are moving house and want to stay with Virgin Media then there are a few hoops you need to jump through.
Firstly, you have to call Virgin Media customer services (0845 141 0111, 150 from your Virgin Media home phone) directly to arrange your move. When you call them, make sure to have your current and new address to hand as well as your moving date and your Virgin Media account number. If your new property is properly connected then you should be able to take all of your equipment with you and connect it up yourself.
It's advisable to contact Virgin Media about six weeks before your moving date. This sets everything in motion nice and early, so if your new property has a Virgin Media connection, you can set up your equipment and get online in minutes. If your new home doesn't have a connection an engineer may need to be called and the installation process can then take up to two hours.
Matters get a bit more complicated if your new property cannot be connected to Virgin Media. If this is the case you will have to cancel your contract and pay a cancellation fee, which may vary according to how long you have left to pay.
With Virgin Media, you can take your existing equipment with you when you move but an engineer will need to help you install your services. This is due to the setup process involved. If you have TV boxes as well, they need to be precisely tuned in. The installation process at your new property is completely free once you've signed a new contract.
When you move with Virgin Media you'll have to sign up to a new contract. This can be a good thing as you become eligible for new offers and bundles, so it could save you money. It's worth discussing your options with Virgin Media directly as you may be eligible for a gift with your new contract, depending on the offers that Virgin are offering new customers at the time you move.
Moving home with Sky
Sky also has a dedicated moving portal which takes a bit of stress out of the whole moving process. You simply go to the Sky website, which has a Home Move section and sign into your account.
Sky requires at least two weeks' notice but you can book your move 90 days in advance. Once you've booked your move in Sky will give you an installation date. It is free to move house with Sky, but if you need to have a new satellite dish installed at your new property there is a one-off fee. You will also have to pay a fee if the installation of a dish at your new property is a 'non-standard' installation.
According to Sky, non-standard installations could involve concealing cables, linking cables to a communal system like a block of flats and, if there is difficulty accessing the dish location, using standard equipment. Non-standard installations may be carried out by independent engineers who will charge for the work and they will often only make that judgment when they inspect the property.
If you don't have a TV package and you just have Sky broadband and Sky Talk, the process is much simpler. Your broadband and talk products should start working from the date Sky provides you when you book the move, meaning you can take all your existing phone and broadband equipment and install it all yourself.
Sky does not require you to sign up to a new contract when you move; you simply continue your existing contract at your new property. However, if you take up new products or services when you move you may have a new minimum term attached to your contract.
Moving home with TalkTalk
TalkTalk has a dedicated moving house portal on their website which can help you arrange your broadband move in advance. You simply go to the TalkTalk website, click on the help section and then click move home now.
TalkTalk requires at least 14 days' notice, though you can also book your move 3 months in advance, to implement your move. You will need details such as the address of your new home, your moving date and a secondary contact number and email address, so TalkTalk can keep in touch with you about your move.
TalkTalk does not charge for moving your connection if you are staying on the same plan, but you will have to sign a new contract. You may also need to give TalkTalk details on the types of sockets available in your new property.
Moving Home with Plusnet
Moving house with Plusnet is very simple. All you have to do is call Plusnet's customer service team and they will arrange everything for you. However, if you have a broadband only package with Plusnet it is best to move your phone line first. If you have broadband and phone package with Plusnet, though, things are a bit simpler.
If you are a broadband only customer, you need to arrange a telephone line at your new property before your broadband can be moved. If you need to keep your phone service separate from your broadband package you should place the order to move phone line first. When you place your order you should ask them to provide the simultaneous order reference for your order. Once you have this, you can call Plusnet and they will be able to start the moving process.
Plusnet requires 2-2 weeks' notice to move your broadband. When you call them you'll need your Plusnet username, your new address and the date of your move or when you want your service to start.
There is a £65.00 charge for moving if you continue your existing contract but if you take out a new contract with Plusnet the move is free. If you are planning on sticking with Plusnet for the foreseeable future it's probably best to take the new contract and avoid the charge.
Business broadband customers can move their broadband for free once per contracted period. If you move again within your contracted period Plusnet will charge your business £54.17 plus VAT.
Questions about moving your broadband
Do I have to change my phone number?
You may have to change your phone number, but this depends entirely on the provider that you are moving to. For example, Sky cannot currently transfer your phone number to a new property. Most other providers do let you keep your number if you are not moving too far away.
Can I take my router and other equipment with me?
Yes, you can definitely take all of your equipment with if you are sticking with the same provider and type of broadband. However, if you decided to switch from ADSL to Fibre (or vice versa) you would use equipment from your new provider.
Can I change or upgrade my broadband deal when I move?
Yes. If you are planning to upgrade your provider should have no problem with it! They will want you to sign a new contract if you change your package, so if you are not planning on sticking with your current provider for much longer it may be best to stick with your current deal if you can.
How long does it take?
As we've detailed above, this can depend on your broadband provider. However, we would suggest that you give your provider as much notice as you possibly can. That way, service disruption may be kept to a minimum.