Shell Energy Broadband | Our complete guide
Giving you the low-down on Shell Energy Broadband.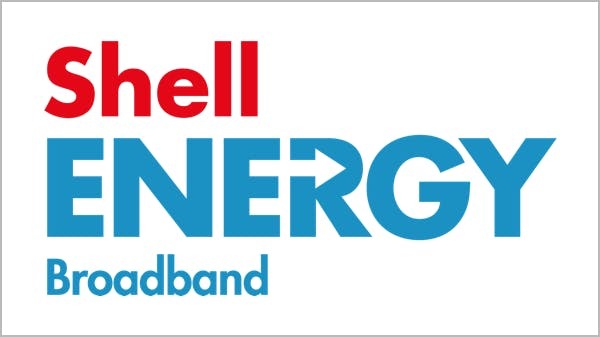 What is Shell Energy Broadband?
Shell as a company is widely known for their service stations being dotted around the country, along with their operations as an energy supply company for consumers throughout the United Kingdom.
So isn't it strange that they're offering broadband, too? Not necessarily. SSE are an energy-predominant company but they also offer broadband products and services, too.
Shell Energy Broadband operates by accessing the Openreach Network, which is of no surprise. All this means is, Shell Energy pays to use the network which is already in place and is used by many other broadband companies. Shell Energy simply acts as another provider, much like BT and Sky, by offering their very own broadband packages.
The broadband speed across all Openreach Networks are essentially the same; no matter who you go with, your service won't change because it's all coming from the same place - much like your energy supply. The only thing that differs is the product package you opt to pay for, which can differ depending on the provider. Each provider, while offering the same broadband, might offer added incentives to get you to go with them. We'll go into what Shell Energy Broadband offers in regards to additional incentives a little bit later on.
What broadband speeds can I get with Shell Energy?
The broadband speeds you get with Shell Energy depends entirely on your location. The Openreach Network offers average speeds, but these speeds depend entirely on where your premises in regards to your green cab you are served off of. The closer you are to your green cabinet, the better speeds you will receive, and the further away you are, the slower your speed will be. As mentioned previously, this speed has nothing to do with your service provider, such as Shell Energy, Sky or BT Broadband, who all use the same network.
So, why does speed fluctuate so much in regards to green cabinet location? Let's talk from a fibre perspective, presuming everyone's desired product is fibre broadband.
The most common fibre product is fibre to the cabinet, which works by running a fibre cable from your nearest telephone exchange to the green cabinet you get your broadband from. Your broadband is then fed to your home via your copper phone wire, which connects your premises to the green cab. The longer the distance your broadband service has to travel along the copper wire, the slower the speed will be when it reaches your home.
Shell Energy Broadband packages
Let's have a look at some of the packages Shell Energy has to offer its customers.
Fast Broadband - £19.99* a month (usually £21.99 a month) - average download speed of 11Mbps
Superfast Fibre - £23.99* a month (usually £30.99 a month) - average download speed of 35Mbps
Superfast Fibre Plus - £35.99 a month - average download speed of 63Mbps
Ultrafast Fibre - £29.99 a month (only available in certain areas) - average download speed of 140Mbps
Ultrafast Fibre Plus - £39.99 a month (only available in certain areas) - average download speed of 290Mbps
Included in all of Shell Energy Broadband deals:
No end-of-contract price rises
No activation charge
Unlimited usage
WiFi router included
Exclusive rewards
Line rental included
*At the time of writing, these were the prices Shell Energy were offering on these broadband packages, which are subject to frequently change.
Shell Energy Broadband additional incentives
If you have Shell Energy Broadband, you'll get exclusive savings on fuel at Shell service stations across the United Kingdom with the Shell Go+ rewards programme.
Shell Go+ works by earning money off fuel every 10 visits, 10% off the food ranges at Shell garages (such as deli2go and Jamie Oliver deli), 10% off every hot drink and 10% off Shell Helix Motor Oil and Shell super car wash or Quick Wash.
Shell Energy Broadband discounts with Shell Energy tariffs
As we mentioned at the beginning, Shell Energy is predominantly an Energy Supply company, which means they offer a great incentive for anyone looking to move to Shell Energy Broadband.
When you sign up for any of Shell's Superfast or Ultrafast broadband packages, you'll receive £75 off your energy bill if you're an existing energy customer, which is almost a whole month's worth of energy when looking at the average cost of a standard tariff in the UK. Alternatively, if you're not already a Shell Energy customer, sign up for one of their energy tariffs and receive broadband discounts.
You can browse the best energy deals for you at a comparison site, by entering your postcode on our sister energy comparison site Energy Helpline.