Upload & download speeds explained
The rate at which data is transferred to and from your device can have a huge impact on the quality of your broadband service.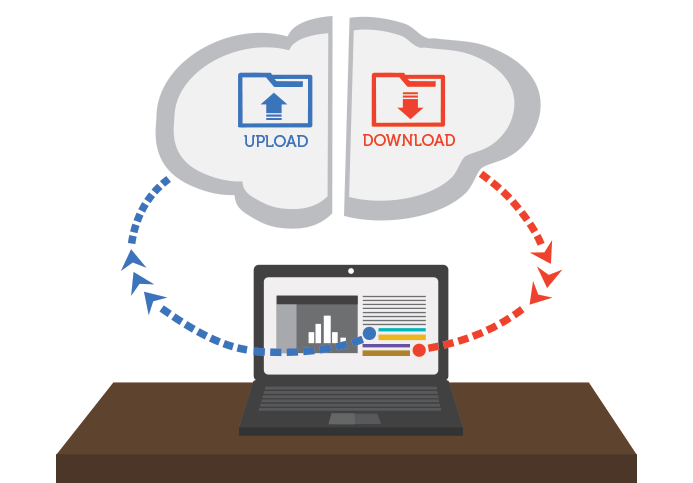 Upload and download speeds are an integral part of your broadband service and having just the right amount to support your usage habits can be the difference between dealing with a painfully slow connection or enjoying a brilliantly quick service.
Our guide will take you through all you need to know, including what they are, how much you need and how to check yours, so you'll be able to smoothly browse the internet and not worry about experiencing lag or seeing that dreaded buffering wheel on Netflix.
What is download speed?
The rate at which online data is transferred over from another source to your device.
What is upload speed?
The rate which online data is transferred back over from your device to another source.
What is a good download speed?
It's difficult to say for sure because it all depends on how many people intend to use one connection and exactly what they plan on using it for.
For example, two people who're looking to just send emails, browse social media and do some online shopping will be much better suited to an ADSL connection and speeds of anywhere between 10Mb to 20Mb.
A large family however who will be simultaneously streaming and gaming across multiple devices will require a much faster fibre broadband package, which start at a superfast 24Mb and go all the way up to Virgin Media's premium ultrafast 350Mb offering.
What is a good upload speed?
It's not uncommon to see broadband packages which advertise an upload speed that's quite a lot lower than its download speed because the vast majority of people simply don't need it.
A lot of activities which require you to upload files to the internet like posting photos to Facebook or HD video calling on Skype use only very small amounts of data, 10Mb and 1.5Mb respectively, so an upload speed of just a few Mb is all that's needed.
As with calculating your required download speed, if you're one of the few who does require a higher upload speed the exact number really depends on what it is you're doing.
Constantly backing up huge files for example could need as much as 20Mb but using cloud services and sending lots of emails with large attachments could easily be supported with 12Mb.
What is my download speed?
The best and most straightforward way to see your download speed is to conduct an online speed test, check out ours here.
What is my upload speed?
Similarly, whichever speed test you choose to conduct will also show you your current upload speed.
What are the best speeds for streaming?
SD and HD streaming uses a surprisingly small amount of bandwidth across all of the UK's most popular streaming services and so require fairly low download speeds.
Netflix for example, recommends a speed of 1.5Mb for SD streaming and 5Mb for HD streaming while rival Amazon Prime Video needs just 3.5Mb for both. BBC iPlayer, which uses 720p HD not 1080p Full HD, says you should have a download speed of at least 1.5Mb if you intend to stream in SD and 2.8Mb if you want to make the jump up to HD.
For glossy 4K on the hand, both Netflix and Amazon Prime recommend having a huge 25Mb of bandwidth spare, which equates to a significantly higher download speed.
It's definitely worth bearing in mind that even those these are the official recommended speeds, it's a good idea to opt for a download speed that's actually a little higher. That way, you can ensure you've got a totally smooth stream and accomodate for anyone else who's trying to use the connection.
What type of broadband offers the best download and upload speeds?
The vast majority of next-generation gigabit broadband packages are completely symmetrical, meaning that their blazingly fast download and upload speeds are exactly the same.
Their availability however, is still not particularly wide as although many providers have pledged to expand their reach, the London-based Hyperoptic for example has pledged to connect up half a million homes by 2020, its still mostly confined to major cities like Manchester and York.
A number of top ultrafast fibre packages which have impressive download speeds of over 300Mb also feature fairly high upload speeds of around 18Mb to 21Mb.
Which providers offer the fastest download and upload speeds?
Some of the UK's biggest gigabit broadband providers who offer these totally symmetrical services include the aforementioned Hyperoptic along with the Abingdon-based Gigaclear and CityFibre, who've partnered up with smartphone provider Vodafone to offer four premium packages.
Alternatively, there's Virgin Media's ultrafast VIVID 350 package which boasts the UK's fastest widely available download and upload speeds of 350Mb and 21Mb.
If you don't think you'd realistically be able to take advantage of that, Sky's 67Mb Fibre Max and BT 100Mb Ultrafast Fibre Plus also provide an excellent set of download and upload speeds at 18Mb and 19Mb respectively.