The best broadband for 4K streaming
In this detailed guide we take a look at the best broadband for 4K streaming, or streaming UHD content, in the UK, including the estimated and optimum broadband speeds you'll need.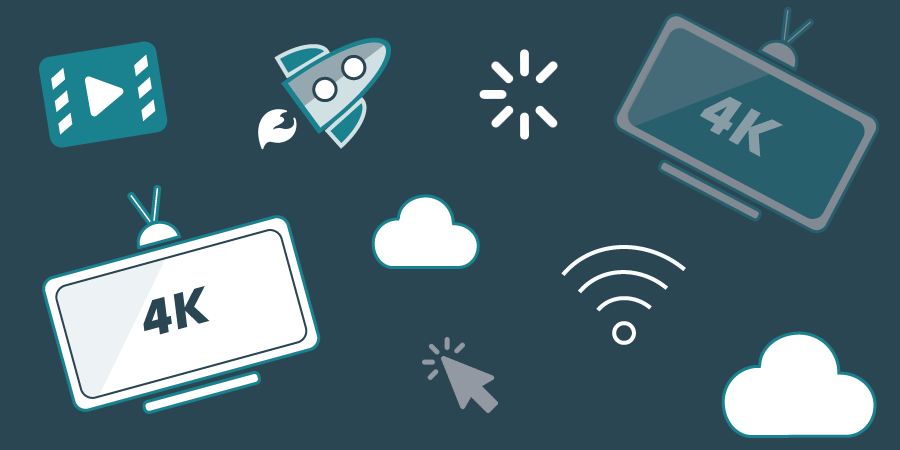 With enough 4K TVs on the market to suggest they are actually breeding, and flagship smartphones released with Ultra HD support, it's time to check out which broadband will do the best job.
What is 4K and 4K streaming?
4K offers the kind of picture resolution that makes you want to weep with joy, as oceans of rich, crisp and vivid colour caress your fortuitous eyeballs. Or something.
Less dramatically put, you've got your 'normal' HD at 720p, then Full HD at 1080p, followed by 4K at 2160p, which is double the resolution of Full HD. That's 3840 x 2160 pixels for 4K, compared to 1920 x 1080, and an increasing amount of content is being made available in this higher quality format.
4K streaming involves watching 2160p content via a web connection. Streaming services such as Netflix and Amazon Prime Video allow you to download content to watch, and there are various picture quality options available, with better quality costing more.
Some content is only temporary, like a rented film or a video clip. At the same time, you can also purchase content, which would then be yours to keep, and would no longer require streaming as you would own the file.
Any time you are streaming you are also downloading, even if you can't keep the content. Services like YouTube show you the progress of the download via the bar at the bottom, which also shows how far you are into watching the video. If your viewing catches up with the download progress, you'll get the dreaded buffering.
Downloading has to be ahead of viewing, and with a fast broadband connection this shouldn't be a problem.
Estimated broadband speeds for 4K streaming
Streaming 4K content is going to be a disappointing experience without fast broadband. In the case of ADSL, which is the slower broadband you see offered, it's just not going to cut it.
The table below shows estimated broadband speeds for 4K streaming on some UK services, and for 4K you want to have at least 25Mbps (although YouTube suggests less). Standard (ADSL) broadband is often promoted as 'up to 17Mbps', and even then you could find average speeds are half that, so you won't be anywhere near the 25Mbps mark.
| | Standard definition | High definition | 4K/UHD |
| --- | --- | --- | --- |
| Netflix | 3Mbps | 5Mbps | 25Mbps |
| Amazon Prime Video | 0.9Mbps | 3.5Mbps | 25Mbps |
| YouTube | 2Mbps | 6Mbps | 15Mbps |
Optimum broadband speeds for 4K streaming
In short, if you want to stream 4K you need to compare broadband deals which use fibre-optic technology. Get yourself a good deal on fibre and ensure that you get fast broadband speeds at home. Even though exact fibre speeds can still be somewhat unpredictable, you should be able to get above 25Mbps; if you're not then a bit of troubleshooting, such as plugging directly into the router, usually does the trick for fibre customers.
Yes, 25Mbps is estimated as the minimum for 4K streaming, but really you want to be well above that just to be sure. Luckily even the smallest fibre packages offer up to 38Mbps, with 76Mbps and 100Mbps also on the market. With these packages you really should be getting well above 25Mbps at home.
Once again, you may need to do a little troubleshooting if you find you are well below the advertised maximum download speed. It's worth checking out your router channel, because changing this to one that's less busy can speed up your Wi-Fi.
Get a fibre deal, and get the best out of the connection. Then you should be able to enjoy streaming 4K content in all its glory.
Is 4K the same as UHD?
Whilst the technically correct answer would be 'no', most viewers are unlikely to notice the difference, or even care that there is one.
4K actually comes from a term used for high-end cinema and production standard, whilst UHD refers to the standard for consumer display and broadcast.
If you want the numbers, then UHD delivers 3840 x 2160 resolution, whilst 4K offers 4096 x 2160.
UHD is short for 'ultra high definition', and it indicates an upgrade from the previous benchmark of HD, but plenty of tech manufacturers just prefer 4K. You'll see a number of TVs advertised as '4K UHD', even though technically this is a contradiction.
It seems like 4K markets better, so TVs that are actually UHD are being called 4K, but the masses aren't going to mind (rightly so). If you were to run a heavily funded social media campaign revealing the truth about this, very few people would be interested. The negligible difference just isn't enough to warrant uproar and cries of scandal, so let's move on.
(For the sake of consistency, we'll continue to call it 4K for the rest of the guide.)
4K content in the UK
Not all content is broadcast in 4K, and, similarly to HD, it is part of an ongoing rollout. You can watch 4K content with streaming services Netflix and Amazon Prime Video, whilst some digital TV providers, like Sky and Virgin Media, have selected content available in 4K. Check out our guide on 4K streaming in the UK to find out more.
4K streaming fibre broadband providers
A number of broadband providers offer broadband packages which are fast enough for 4K streaming, but there are other things to consider.
Sky
If you want to watch 4K content with Sky then you'll need a Sky Q set-top box. Sports fans can enjoy the latest action on Sky Sports in 4K, and some releases on Sky Cinema can also be viewed in this enhanced format.
Sky customers can choose fibre broadband for their home connection, ensuring they have fast download speeds for 4K streaming. Standard Sky broadband is probably going to struggle, so if you're keen on 4K streaming then it's got to be Sky Fibre.
Virgin Media
The Virgin TV V6 box, powered by TiVo, is 4K-ready, and the provider only offers superfast fibre broadband. If you're a Virgin Media broadband customer then you're bound to be able comfortably stream 4K content, with packages offering speeds of up to 50, 100, 200 and 300Mbps (location dependant).
In terms of available 4K content, Netflix has an app on the V6 box, so you can stream straight to your TV. 4K Amazon content would also be accessible through a compatible laptop or web-connected device. As long as you are using the home Virgin Media fibre connection then it should be a good stream.
BT
BT has deeply embraced the emergence of 4K. You'll find a page dedicated to BT 4K UHD, which highlights Netflix as well as BT Sport.
In fact, it pretty much hammers home the benefits of sport and 4K together by saying, "BT Sport 4K UHD live content is delivered at 50 frames-per-second, enabling sharper images – particularly beneficial for fast moving sport."
The page explains what hardware you need (4K TV and the Ultra HD box), as well as which BT TV package, and it adds that you'll need BT broadband in the form of BT Infinity. You would probably be expected to take BT Infinity anyway as part of going premium, but regardless of that you would need the faster broadband anyway to enjoy 4K streaming.
TalkTalk
You can't get 4K content via TalkTalk's TV service, but you can get superfast fibre broadband, so you'd be able to stream UHD content online.
The fibre broadband is competitively priced, so could be a good option, but the standard broadband will not be fast enough for 4K.
Plusnet
Although you can stream Netflix directly to Plusnet's YouView box, it is not 4K-ready, so you wouldn't be able to watch Netflix content in the enhanced format on your TV.
However, and devices or laptops you might have that are 4K-compatible should still be able to deliver the sharper format using Plusnet's fibre broadband.
Other fibre providers
There are loads of fibre broadband providers, such as EE, John Lewis and SSE. As long as you have 4K-ready devices, then all you need is a fast, fibre home connection and access to 4K content. Compare fibre broadband to find the best deals around.
Top tips to speed up your broadband
Sometimes even fibre broadband gets a little sluggish, so here are a few quick tips on how to speed up your broadband.
Move your router - Anything blocking the router can affect the Wi-Fi signal, so try repositioning it to keep it clear of obstacles.
Change the router channel - This is often realty effective; how to do so may depend on provider, but with Virgin Media you can log in to change the Wi-Fi channel. A little trial and error can help you get the best Wi-Fi signal.
Clean your computer - Delete anything you don't need, clear your browsers and stop any unnecessary programs from running.
Encrypt your Wi-Fi - If you don't have one already, get a password on your Wi-Fi. Otherwise neighbours can use it and this will inevitably lead to slower speed due to the drain on your connection.
Switch broadband provider - Compare fibre broadband providers, and do a little research into which ones deliver the fastest actual download speeds.