EE broadband vs Vodafone broadband
We take an in-depth look at the ADSL and fibre broadband packages offered by these two award-winning mobile operators.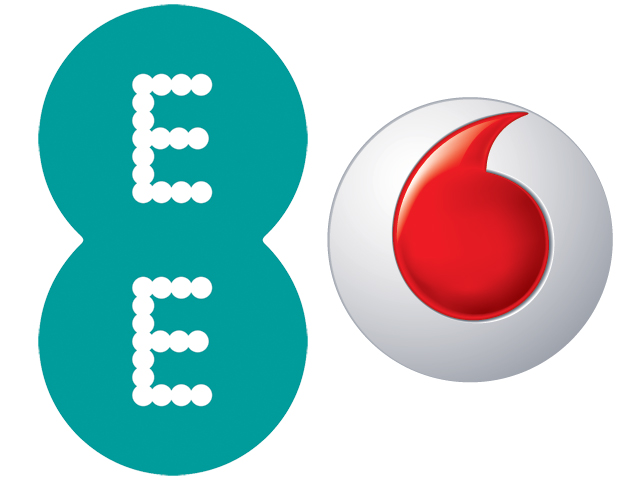 With the staggeringly huge amount of different broadband packages and services on offer these days, it can be quite difficult to decide on which one to go for.
This guide will take a look all of those currently offered by Vodafone and EE to see exactly how they match up in terms of several all-important factors like speed, price and 4G coverage so you can easily decide if one is right for you.
ADSL
EE features one ADSL broadband package with an average download speed of 10Mb a month which is perfect for those lighter internet users who're looking to just send emails, shop and do the odd bit of streaming but Vodafone currently don't offer any.
Fibre
A brilliantly varied selection of superfast fibre packages are available with EE, 36Mb Fibre Broadband, 67Mb Fibre Plus, 145Mb Fibre Max 1 Broadband and 300Mb Fibre Max 2, all of which come with totally unlimited usage.
EE Mobile customers who're on either a pay monthly or 12 month SIM Only contract will receive an extra 5GB of data each month when they purchase either the 36MB or 67Mb package, while those who opt for one of EE's Fibre Max packages will be allocated an extra 20GB of data each month.

Although Vodafone do offer less choice with only two superfast fibre packages, 35Mb Superfast 1 and 63MB Superfast 2 both of which again come with totally unlimited usage, they're still easily fast enough to support HD streaming and gaming on multiple devices.
Vodafone also have what's known as a speed guarantee so if you check your connection speed in their broadband app find that it's fallen below a 25Mb for the 35Mb package and 55Mb for the 63Mb package you'll be entitled to a 15% discount on your monthly bill until the issue is fixed.
Vodafone Gigafast
In 2017, Vodafone partnered up with London-based ISP CityFibre to build an extensive full fibre 1Gbps network and deliver blazingly fast broadband to up to 5 million homes and businesses by 2025.
Packages of 100Mb, 200Mb, 500Mb and 900Mb will be on offer with no upfront fee necessary and a next-generation gigabit router included for free.
There's no word on when it'll become commercially available but it's currently being trialled in Milton Keynes, Aberdeen, Peterborough, Coventry, Edinburgh, and Huddersfield.
Price
In those broadband packages where EE and Vodafone offer the same or very nearly the same speed, their prices are actually quite similar.
EE's 67Mb and Vodafone's 63Mb packages are available for between £27 and £30 a month while their respective 36Mb and 35Mb packages will cost you between £22 and £26 a month.
Existing Vodafone customers who purchase one of their broadband packages will be entitled to a small monthly discount on their bill while EE's will receive a fair chunk of extra data, especially if they opt for either one of their two premium packages.
The 300Mb Unlimited Fibre Max 2 Broadband and 145Mb Unlimited Fibre Max are definitely the two most expensive packages on offer, but they do give you an incredibly impressive amount of speed to play with.
Although Virgin Media do charge less for their 350Mb package during the first year, after that EE's 300Mb offering is a fair bit cheaper. EE do also charge a set-up fee which could be anywhere from £10 to £50 a month depending on which package you go for.
All of the packages from EE and Vodafone are only available on 18 month contracts and all conveniently come with the line rental price included.
Availability
EE and Vodafone both have absolutely excellent availability all over the country because they use Openreach's extensive infrastructure that's available to over 31 million UK homes.
4G
EE's and Vodafone's 4G networks consistently rank amongst the best in the UK for their speed and coverage so you shouldn't ever have any trouble getting online whilst you're out and about.
EE boasts the fastest 4G network in the whole of the UK and a hugely impressive 99% coverage rate. Vodafone do lag slightly behind with 97% coverage and speeds which aren't quite as blisteringly fast, but it's definitely not a difference you'd ever notice and customers will still enjoy a wonderfully slick, reliable service.
A good assortment of mobile broadband options are available from both providers including dongles, portable MiFi routers, in-car wifi and data-only SIMs on contracts of varying length.
TV and Home Phone
Along with international calls and unlimited anytime calls to both landlines and mobiles, EE and Vodafone offer several different bolt-ons, like anonymous caller rejection and call divert, to enhance your home phone package.
EE's pay TV service, simply called EE TV, is only available bundled together with one of their broadband packages.
It offers over 70 freeview channels, 11 HD channels, the ability to record two shows at a time, store up to 600 hours of SD content and access to on-demand streaming services like NOW TV (which allows you to access Sky Cinema and Sky Sports through the relevant passes) and Hayu.
Replay is another handy feature which allows you to select your eight favourite channels and watch anything shown there over the last 24 hours.
While Vodafone don't offer their own type of pay-TV platform, Red Entertainment allows you to select a two year subscription to either NOW TV, Sky Sports Mobile, Prime Video or Spotify Premium completely free of charge with your package.