4K Streaming In The UK: How To Stream 4K Content Online
If you've recently purchased a swish new 4K TV or projector, or you're thinking about buying one, you might be forgiven for thinking that there is nothing to watch on it.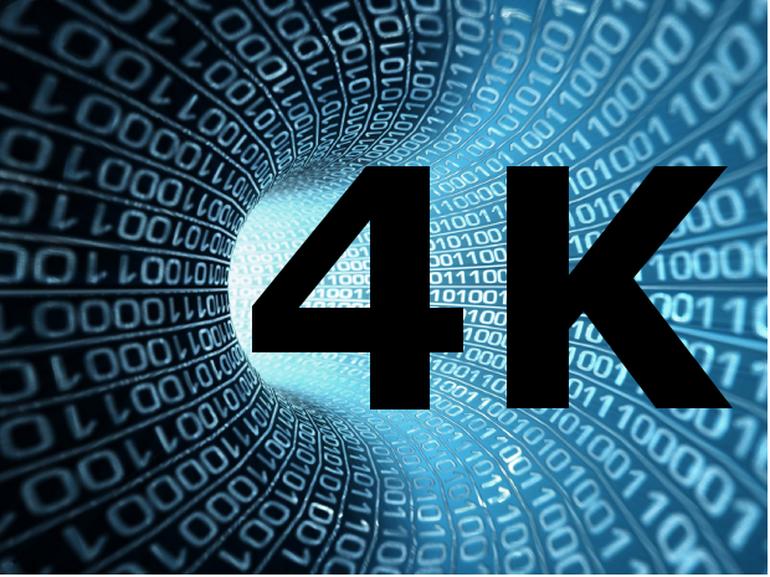 Most major broadcasters haven't fully rolled out their plans for 4K Ultra High Definition content yet. But, thanks to the rise of streaming services, there is actually plenty of 4K content that you can show off to your friends. Here is how you can watch 4K TV in the UK.
What is 4K and how does TV resolution work?
Before getting into the differences between 4K and standard HD TVs, we have to get a bit technical and talk about how TV resolutions work.
TV resolution is defined by the number of pixels available on a TV screen. Before HD the UK broadcasting standard, PAL, had a resolution of 720 pixels x 576 pixels. The minimum resolution required for a TV to be called HD ready is 720p HD, which is 1280 x 720 pixels. As you can see this resolution brings more pixels to the screen than the old PAL system, which means that a 720p HD picture is much more detailed than a 720 x 576 PAL picture.
Full 1080p HD, the current high standard for HD TV, has a resolution of 1920 x 1080 pixels.
This is a big leap from 720p HD and a massive difference from the old PAL resolution. 4K is a massive leap again from 1080p HD as it has a resolution of 3840 x 2160 pixels. This is twice the resolution of 1080p, which means more detail, more colour and a much more immersive experience.
4K Streaming Services In The UK
There are a number of streaming services available in the UK that offer 4K content that you can watch right now.
Netflix
There are a few things to bear in mind if you want to watch 4K content on Netflix. First of all, your TV might not be compatible.
The first wave of 4K TVs available in the UK did not support the HEVC (High Efficiency Video Coding) H.265 compression standard. Netflix needs support for this codec to run 4K content.
Fortunately all is not lost. As 4K TVs can be updated with new firmware, support for this codec should be added so even if your TV is not compatible now, is could be in the future. You can check Netflix's list of compatible TVs here [https://help.netflix.com/en/node/13444].
Netflix also have a different subscription plan for 4K. If you want to stream Netflix on your brand new 4K TV, you'll have to pay for Netflix Premium. Netflix Premium costs £8.99 per month, rather than the standard £5.99, and it lets you stream 4K content to four different devices.
As streaming 4K content is very data intensive, you'll also need a very solid broadband connection. Netflix recommends that you need a "steady internet connection of 25 megabits per second or higher".
This means that you'll need quick, high speed broadband that's stable. Most of the big providers offer fibre packages and a quick look on our postcode checker should tell you if you can get these services in your area.
But if you've got Netflix Premium and a connection that's capable of streaming 4K content, what is there to watch? At the moment it has to be said that the 4K library is a little bit bare.
Currently Netflix has House of Cards season 2 & 3 available in 4K as well as favourites like Breaking Bad, The Blacklist and Daredevil. But in the future Netflix original content and some movies will all have a 4K streaming option.
Amazon Prime Instant Video
Amazon also offers 4K content through its Prime Instant Video platform. Unlike Netflix, it offers this service at no extra cost to Amazon Prime Instant Video members.
The 4K service was previously limited to to certain TV manufacturers like Sony and Samsung, now it's available to everyone, so if you have a compatible 4K TV*, you can watch 4K content on Prime Instant Video right now.
Unfortunately as things stand at the moment, Amazon's 4K library on Prime Instant Video is pretty limited. Although you can buy or rent quite a few 4K movies, you don't get a big library of shows like Netflix. While much more of an a la carte service, this situation is improving dramatically over time.
The number of Amazon originals available on 4K is gradually increasing. You can already see shows such as Transparent, Alpha House and other hit shows such as Mad Men in 4K. But Amazon are investing in the future with their new shows, so you can expect the amount of 4K content to rival Netflix in a year or two.
YouTube 4K Content
If you don't fancy signing up to a streaming service but you still want to show off your new TV, YouTube could be the answer.
YouTube is actually something of a pioneer in 4K as they've been offering some 4K content since 2010, which is before most people had the means to watch it! As YouTube is free, if you have a 4K TV or a PC monitor that can output in 4K, it's the perfect way to show off your Ultra HD kit to your friends.
However, you shouldn't expect Netflix original quality drama here as most clips are filmed by amateurs, though there are some clips from the likes of Panasonic & Sony. Film trailers also tend to be uploaded in 4K, so you can enjoy the trailer for the new Star Wars movie in crystal clear Ultra HD.
Like Netflix and Amazon, you'll need an internet connection that's good enough to handle 4K streams. So use our postcode checker to get the best speeds for your area.
Watching 4K Movies and TV Offline
If your broadband connection is not quite up to the task of streaming 4K movies and TV there are other ways you can enjoy 4K content.
4K Blu-ray Discs and Players
If you picked up a 4K Blu-ray player with your new 4K TV, then chances are that you are interested in buying physical media. Thankfully retailers have now started to sell a limited range of 4K movies including titles such as Ghostbusters, Taxi Driver and Captain Phillips. As with the launch of Blu-ray a few years ago, this library will gradually increase and most new releases will soon have a 4K Blu-ray version. Jurassic World, for example, is also available as a 4K Blu-ray.
4K Blu-ray players are now widely available from the big retailers at a sensible price point. So if you have a 4K TV but not a 4K player, it's definitely something to think about.
4K Broadcast TV – Which Channels Broadcast in 4K in the UK?
4K content is gradually making its way to our screens in the UK, largely thanks to sport, but it's still very early days.
At the time of writing the only mainstream channel that broadcasts in 4K in the UK is BT Sport Ultra HD. Whether you subscribe to this or not is really depends on how much you like football as that is currently the only sport on offer on BT Sport Ultra HD. BT broadcasts one live game in Ultra HD every week and while it does look spectacular, it's not the best value for money for anyone who isn't all that interested in the Premier League or Champions League. If you're a huge footy fan though, it's definitely worth considering.
The other big broadcasters in the UK are currently biding their time to see how 4K Ultra HD performs. The BBC have started trials and now 4K TV's are capable of higher frame rates we could soon see Sky Sports in 4K. However at the time of writing, BT Sport Ultra HD is the only 4K channel in the UK.
4K Streaming Boxes Available in The UK
If you've got a new 4K TV and you're looking for a separate device that can stream 4K Netflix, Amazon and YouTube to it then these streaming boxes could be something that you should invest in. Some apps on smart TVs aren't that great in terms of usability, so picking up a relatively cheap streaming device can help you find your 4K content quicker and give you the full range of 4K services.
Amazon Fire 4K Fire TV

Amazon's new 4K Fire TV box has recently been released. At £80 it probably represents the best value for money out of 4K streaming devices available in the UK.
The 4K Fire TV boasts apps for Netflix, Prime Instant Video, BBC iPlayer, YouTube, ITV Player and Demand 5. There's no news on a channel 4 catch up app yet at the time of writing but it's likely to appear at some point in the near future.
If you have a 4K TV and an Amazon Prime Instant Video subscription, then the 4K Fire box could be a great addition to your 4K set up.
Nvidia Shield
Aside from being a nifty gaming device, the Nvidia Shield is also an Android based 4K TV streaming box. It has apps for Netflix, BBC iPlayer, YouTube, Google Play Movies and home streaming apps such as Plex and XBMC. You can even plug headphones into the Shield remote or controller for a more immersive listening experience.
It's a bit pricier than Amazon's 4K Fire TV, but its added functionality could be a good investment if you're a PC gamer. As its Android based, the Shield also works with a whole roster of Google apps, so your Smart 4K TV will probably be a little bit smarter.
Is 4K worth it?
If you are reading this and considering jumping into the world of 4K entertainment we would suggest that you wait a little bit longer. If you wait, TV sets will get cheaper and by the time you pick one up there will be more content available.
If you already have a 4K TV set we would suggest taking a look at your current broadband tariff and upgrading it so you can access more content to get the best use from your shiny new screen. Although there is not really any broadcast TV available in 4K right now there is plenty of 4K content online if you have a connection that's quick enough to stream it.